Best Hydroponic Systems For Vegetables
Welcome to the modern garden! You can grow any terrestrial plants with hydroponics, efficiently and quickly. Hydroponics is also a rapidly growing technique in the fields of biology research and instruction. If you are interested in finding new and innovative ways to garden indoors, look now further!
We're going to provide you with all of the information and gear you need to get started on your new hobby. In our first section, we'll take a look at some of the best hydroponic systems you can purchase to get started quickly. These include all the components you need to create a fully functional hydroponic system.
Here are the most popular hydroponic systems currently on the market.
Hydroponics Growing System, 12 Pods Indoor Herb Garden
Check $ Price 12 Pods Indoor Herb Garden From Amazon
It you are looking for a bulk option, look no further. This hydroponic garden systems comes with 15 plastic grow pots to get you going fast. The 7.5 gallon reservoir has a water level indicator and it comes with a submersible pump and timer for automatic flood and drain irrigation. Also included in this kit are illustrated instructions, seed starter cubes, nutrients, pH test kit,  and fired-clay/pebble grow media.
The Miracle-Gro Aerogarden Ultra is one of the most popular and best selling hydroponic systems out there. Their saying is 'advanced hydroponics made simple'. This is arguably the fastest way to get an indoor, soil-less garden up and running in no time.
The kit includes 3 full spectrum CFL grow lights, gourmet herb seed pod kit, an LCD display control panel, and the unit itself. This system boasts the ability to grow plants and herbs 5 times faster than soil grown plants.
Mr. Stacky Indoor Vertical Hydroponics Tower
You'll find a cool vertical option in the Mr. Stacky Hydroponics Tower. This has a small footprint and will help you save space. It has 5 tiers, so you can grow quite a bit of vegetables, herbs, and fruits with this guy. It comes with an automatic watering mechanism which you can set a timer on to keep things completely hands free. Check From Amazon
This hydroponics tower comes with a base reservoir, pressure regulating head, pipes, pump, rotating saucer, and timer.
Hydroponics sounds a lot more complicated then it actually is. Anyone including "brown thumbs" can do it. Hydroponics just means we are add plant food to the water and we use a different growing medium to replace soil. This allows us to know exactly what we are feeding our plants and providing only what our plant needs. By growing hydroponically we can grow larger veggies faster in a smaller footprint and conserve water all at the same time. How awesome is that?  Yes you can grow in soil too but hydroponics is recommended. We promise it's not hard and we are always here to help customers
---
Hydroponics Growing System 108 Plant Sites, 3 Layers 12 Food-Grade PVC-U Pipes Hydroponic Gardening System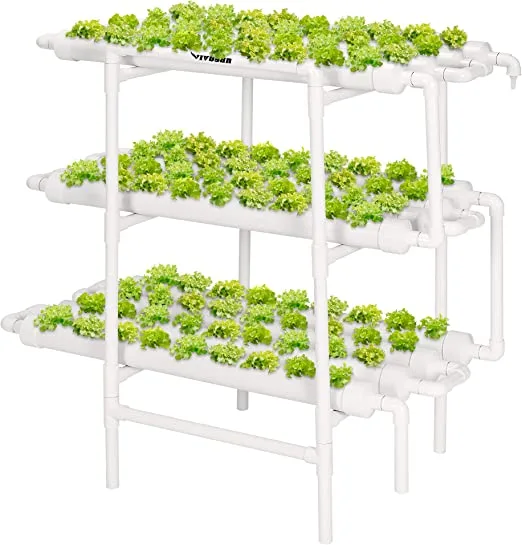 About this item
⇒ High Yield and Quality: Soilless cultivation with nutrient film can meet the production potential of crops; Compared with traditional soil cultivation, the yield can be doubled with requiring less water and less space
⇒ With Timer to Save Effort: This hydroponic growing system kit of PVC has a timed circulation system; The default setting of the timer allows the pump to work for 5 minutes every 30 minutes to reach the nutrient film technique; The circulation mode can also be set manually or automatically according to demand; Not only makes the pump more durable, saves nutrient solution, but also makes vegetables grow better
⇒ Easy to Assemble & Use: This hydroponic gardening system is extremely simple to assemble and use; Great for beginners and no experience required; It is easy to save time and energy with no arable land required, which means it's suitable for indoor and outdoor
⇒ Durable and Widely Applicable: Each food-grade PVC-U pipe is 4.3 feet(1.3 meters) long and 2.5 inches (6.3cm) in diameter with 108 sites for vegetables, flowers and plants; The hydroponics growing system kit of PVC for indoor and outdoor is especially suitable for leafy vegetables in home and offices, such as lettuce, rape, celery, beets, bell pepper, garlic seedlings, canola and so on
⇒ What You Get: The plant germination kit has 3 layers; Comes with 1 set of planting pipes, 1 water pump timer, 1 water pump, 1 tube, 1 power plug, planting basket and sponge, 1 tweezers, 3 instructions (planting instructions, assembly instructions, timer instruction manual) and 1-year warranty
PowerGrow Deep Water Culture Hydroponic SystemsCheck Price PowerGrow From Amazon Lick Here
This is a really cool system that has garnered a lot of attention because of the tech behind it. You get 4 five gallon buckets allowing you to grow 4 distinct plants all at the same time. These 4 growing sites are powered by the DWC hydroponic bubbler system: air pump, air lines, air stones, basket lids, all backed by a 1 year warranty. You can also upgrade to a system of 4 ten gallon buckets, or 8 buckets. It all depends on how big you want your garden to grow!
What is Hydroponics and How Does it Work?
Hydroponics is the craft of growing plants using water and nutrients without the need for soil. Most of the time plants are grown with their roots simply moving down into a nutrient-enriched water. However, some plants need a little support so instead of the roots being left in water alone a non-soil component such as coconut husk, gravel or perlite is provided into which the plants roots grow and spread.
In hydroponics, these soil delegates are called growing mediums. Hydroponics is growing in popularity because it means that any plant can be grown anywhere. All you need to do is to create the correct temperature and give the plant the sun or shade that it needs.
Virtually any plant can be grown using hydroponics because the plant only needs nutrients and water to grow. In nature soil merely acts as a sponge that holds or suspends nutrients within its structure. Plants do not need the soil itself to grow just the nutrients suspended within it.
Research is the important thing to using the best hydroponic kit properly. Start with looking into the nutrient ratios and normal sizes of the chosen plants. By an example, tomatoes have to have a 13 to 18 percent nutrient concentration. Many varieties will certainly grow to 3 feet or more in height before setting out fruit.
Seeking to grow tomatoes in a hydroponic grow system that has only six inches of space between the rack and the lights undoubtedly will not work. Get a home best hydroponic system that permits the lights to be moved up and down in the various parts of the growing cycle. It pretty much goes without saying that you'll want to find a company that provides the widest range of relevant products.
Another powerful reason people employ hydroponics is that it can produce very healthy and large plants. Using hydroponics all of the plants being grown can be fed whatever you want to give them whenever you want to give it to them. Meaning it is possible to meet exactly the plants needs at any point, provided you feed the plants correctly throughout the growing process you can produce totally healthy plants 100% of the time. There are no failed harvests; no rotten fruit and the plants are as nutritionally rich as possible.
The right hydroponics supplies will offer an extensive selection of hydroponic and indoor growing equipment and other products, including hydroponic, grow lights, hydroponic systems, plant nutrients and additives and grow tents, in short, anything and everything that you could require growing your favorite plants successfully.
For more detailed information about Hydroponic you can check on wikipedia.
Types of Hydroponic Systems
A home hydroponics systems tends to use some non-soil medium to support the roots of the plant. With regards to easy growing, the ideal hydroponic systems uses something fairly porous or loose. This enables the gardener to plant seeds directly into the racks rather than attempting to transfer a plant once it has sprouted.
Good soil-free mediums consist of peat moss, porous clay pellets, rock wool and inorganic foam. Rock wool is a unique material that is made by heating rocks until they melt, after that stretching and spinning the material into a fine thread. Nests of rock wool give plants a good amount of openings as a way to anchor their roots in.
The water culture hydroponic system growing is the most basic of all best hydroponic systems. With this method, you place your plants on Styrofoam platforms that float on the surface of the water rich in nutrient. The roots are submerged in the nutrient, so an air pump is required to provide oxygen. The water culture method works good for growing lettuce, but unfortunately, it is usually not effective for growing larger plants.
One of the best hydroponic systems is the flow and ebb method. It is usually cost-effective and usually easy to set up. With the ebb and flow system, you put your plants in pots, which you then put into flood trays. The trays are filled with nutrient-rich water that has been pumped up from the storage. The water and nutrients then travel up through the pots and in the roots of the plants. After the plants have immersed for a certain amount of time, the water is then drained back into the storage. This enables your plants to oxygenate and dry before the next round of flooding. The flow and ebb system recycles water and, therefore, is more efficient than most other systems. It is also a good option and a pretty low-maintenance for beginners.
Wick method is another hydroponic system which is simple. It is similar to flow and ebb, but it doesn't reuse water, and it is not capable of sustaining plants that require a lot of water. In a wick hydroponic system, the roots of the plants are always submerged in nutrient-water. To oxygenate the plants, a special air stone pump is usually needed.
The drip system is probably the most frequent method used in the hydroponic system. Drip systems are very efficient. A timed tap sends the required amount of nutrient solution and drops it at the base of each of your plants. The system needs less maintenance, but it usually does need precision. You have to monitor carefully your plants and time when to do watering cycles to make sure that they are receiving enough nutrients.
How to Get Started: 5 Steps to Setting Up the Best Hydroponic Systems
With just a little research and patience anyone can grow plants using hydroponics. All you need is the right equipment and a little space. You can even get started with hydroponics with a bucket, a few seeds, and some water. However, the key to growing healthy plants is the right balance of nutrients, so ideally you need some hydroponics fertilizer to ensure the plants you keep in the bucket are getting the right balance of nutrients tap water alone does not always contain enough nutrients.
But before starting, it is important that you learn about hydroponics as much as you can. Hydroponics could be a complex growing method, and having enough knowledge before you start will make the entire process more enjoyable and a lot easier.
1. Cuttings or Seeds?
Are you going to use seeds or cuttings? This is the first decision you'll have to make. Seeds are readily available and low-cost. However, they grow slowly and don't always produce healthy plants. With cuttings on the other hands, results are more consistent compared to that of seeds. But they could also be susceptible to disease due to lack of diversity.
If one cutting develops a disease, most likely it will spread to the rest of the cuttings. Sometimes it's best to try both. Discover which method works best in your hydroponics garden.
2. Decide on Your Target Yield
The yield is also of the highest quality and standards when you follow the hydroponics techniques, in your garden. The organic yield does not contain any pests as in the case of inorganic farming which is done in the conventional farming techniques as such.
Hydroponic system types are also of a different kind. Make sure that you understand the good benefits of the best hydroponic nutrients that are going to give the plants the best nutrients with a great deal ease. Then you can pay the money which is completely worth in doing so.
The pesticides that you are using and the insecticides and the harmful chemicals are sucked in by the plants along with the nutrients from the soil, and it is causing adverse effects on the people who consume these type of fruits and vegetable as such.
Make sure that the benefits of hydroponics systems are understood in the best possible manner so that you can start to buy the needed accessories right now ahead of the implementation of the tasks to total perfection. Ideally, the hydroponic system types are of a wide variety as such.
3. Get the Right Equipment
Learn about the different types of hydroponic systems and then decide which technique you'd like to set up.
Are you willing to spend more money to have a hydroponic system that will deliver greater yields? How much time and effort are you willing to spend on your hydroponic garden? The hydroponic system you choose will dictate the type of equipment you have to purchase.
Proper lighting is important to the success of your hydroponic garden. You won't be able to get the results you expect if you use standard incandescent lights. Invest in HID or high-intensity discharge lights, and you'll notice that your plants are sprouting up a lot faster than you expect.
4. Control the Growing Environment
One of the primary advantages of hydroponic gardening is that you have full control over the growing environment. Capitalize on this. Know what humidity levels and temperatures are best for the crops you'd like to grow. Learn how to improve carbon dioxide levels in your growing room and other aspects related to air flow or ventilation.
Also, know whether or not your growing environment is susceptible to pests and insects. When a gardener plants vegetables or flowers in the ground, the plants absorb the nutrients they need from the water they take in from the soil.
The soil holds the nutrients, but it also disrupts with the absorption rate of the plants. The most effective hydroponic system uses no soil. This permits the gardener to control entirely some nutrients fed to their plants. Also, it enhances the absorption rate, letting all plants grow quickly. Hydroponic plants usually mature faster and stay healthier.
5. The Internet.
It's a portal for such an astonishing range of products and services, so why shouldn't you use it to find great deals on hydroponics, too? Any hydroponics retailer that is even worth bothering with will have an online presence of some form, and what's more, the Internet makes it easy to find such companies, simply by typing 'hydroponics' into a search engine such as Google.
You should look for an online hydroponics store that combines an incredibly comprehensive range with the very highest standard of customer service. Such a firm should have prominently placed contact details on its website, and should also offer a wide variety of payment methods to ensure that you never need to search for another online hydroponics store.
Once you've gained enough knowledge about hydroponics and hydroponic gardening and you feel you're ready to start, make sure you don't forget just to have fun. Though it needs a lot of labor hours, hydroponic gardening is truly enjoyable to a person with a green thumb. There is joy in watching your plants grow from seeds into healthy, productive crops. True, hydroponic gardening involves very careful measuring of hydroponic nutrients but seeing the results makes you appreciate this art of growing more.
Other Tips to Engineering the Best Hydroponic System
Many growing mediums for a home hydroponics system let the nutrient-filled water flood the roots evenly. This is how the nutrients will be delivered to the plants. Feeding the plants at the proper time and with the right mixture of nutrients will allow them to grow without the threat of over and under watering or disease.
Only a few plants require the same feeding schedules, but a majority use the basic hydroponic nutrient blend. The concentration of the nutrient mix in the water is exactly what deviates between plant species the most. The incorrect concentration could burn the roots of the plants and kill them.
Growing of plants using the hydroponic systems is becoming an increasingly common practice among most gardeners. There are many advantages to using hydroponics over the ancient soil-based growing system. Less water is used, it takes less time to grow plants, and you will get high yields from the plant. There are some different ways of growing the plants using hydroponics systems, and each way comes with its set of advantages and disadvantages.
Plenty of advantages and positive results can be achieved when you can efficiently cultivate a range of hydroponic plants. Hence, see to it that you know precisely what needs to be implemented and also those habits that you better refrain from doing. Unsurprisingly, some people continue to do some things which are detrimental to their plants or system without them recognizing it. So for a more successful endeavor, gather more information about the proper treatment and maintenance of hydroponic plants.